Rail Freight
When shipping large volumes of goods to or from Northern Ontario, you definitely deserve the best - and that's exactly what Ontario Northland offers. We're not just another shipping company, we're your reliable partner. Our dedicated team move your goods - leaving you with peace of mind and more time to focus on your business.
Access Northern Ontario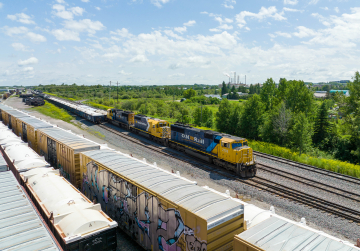 The world needs what Northern Ontario has to offer - and Ontario Northland is the modern, future-ready, transportation service to deliver it. 
Our 675-mile rail system spans from Moosonee in the north to North Bay in the south, from Calstock in the west to Rouyn-Noranda, Quebec in the east. This rail network encompasses countless underpasses and overpasses and more than 2.5 million railway ties, 602 crossings, 90 railway bridges, 2,247 culverts and 115 buildings. 
At Ontario Northland we work with businesses in Northeastern Ontario and Northwestern Quebec to improve access to suppliers and customers throughout North America. Ontario Northland connects with Canadian National (CN) and Genesee & Wyoming's Ottawa Valley Railway for furtherance to Canadian Pacific (CP). Interchange points are located in North Bay, Rouyn-Noranda and Hearst, where freight regularly moves in and out of our region.
Commodities
Ontario Northland provides freight transportation for metals, minerals, forest products, agriculture products, consumer goods, chemicals, petroleum, and more. 
Ontario Northland also handles special train movements for heavy or dimensional loads. We offer customers the ability to load rail cars at a maximum weight on rail of 286,000 lbs., which is the standard rail weight loading on most Canadian railways.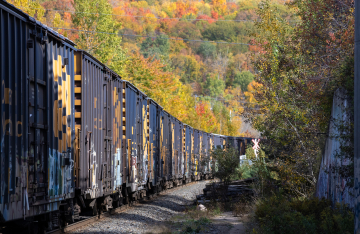 Heavy Freight

Ontario Northland is pleased to be partnering with CS Enterprises for heavy equipment loading and offloading in Moosonee and Cochrane. This includes modular homes, construction equipment, large vehicles and more. Customers can directly contact Ontario Northland's Heavy Equipment Depots in Moosonee and Cochrane to book their shipments. This team will also coordinate all heavy equipment billing, reservations and quoting.

1-800-363-7512 ext. 111
heavyfreight@ontarionorthland.ca 

 
Transload

Shipping goods has never been more convenient with the rise of transload services. More and more companies are hopping on board, realizing the amazing benefits of utilizing the railroad for long distances, and a local trucking company for those last few miles. Say goodbye to the headache of coordinating multiple shipments and hello to a streamlined process that delivers your goods directly to your desired destination.
Express Freight

Do you ever find yourself in need of shipping goods between Cochrane and Moosonee, but don't quite have enough to fill an entire railcar? Look no further than Express Freight! We're experts in moving everything from pallets of supplies to household goods, groceries, building materials, and even recreation vehicles like ATVs, snowmobiles, boats, and canoes. Plus, we offer heated and refrigerated cars to keep your goods that need temperature control in top shape. Trust us to get your shipments where they need to be with ease! 
Rail Current Customer Info
Fuel Surcharge Tariff

Ontario Northland's fuel surcharge is mileage based and calculated monthly based on the average price of U.S. No. 2 Diesel Retail Sales by all sellers (cents per Gallon) Highway Diesel Fuel (HDF).

Effective Month
Based on Average HDF Price
ONT Fuel Surcharge 2000-A
ONT Fuel Surcharge 2000-B
US/Mile
CDN/Mile
US/Mile
CDN/Mile
Nov 2023
$4.370
$0.7104
$0.9615
$0.5248
$0.7103
Oct 2023
$4.370
$0.6720
$0.9062
$0.4864
$0.6559
Sept 2023
$3.882
$0.5632
$0.7443
$0.3776
$0.4990
Aug 2023
$3.915
$0.5504
$0.7314
$0.3648
$0.4847

 
Rail Car Tracking

Ontario Northland's shipping professionals track and monitor railcars to ensure visibility at every stage between the point of origin and final destination so you can know exactly when to expect your goods.

If you'd like to know where your rail car is, call a member of our team at 1.705.544.2292 ext. 118.
Schedule a Call or Meeting
Let our team walk you through the step-by-step process of becoming a customer. Whether it is one load or 100 loads, single cars or dedicated trains, we want to deliver a rail shipping solution that makes sense for you. If you are located off the rail line, we can still connect to you and allow you to access the benefits of this superior shipping method. Email freight@ontarionorthland.ca to book today.
Every summer Ontario Northland undertakes critical infrastructure work along the railway to ensure we meet industry safety standards and continue to provide safe, reliable and efficient transportation services to communities and businesses in the North.